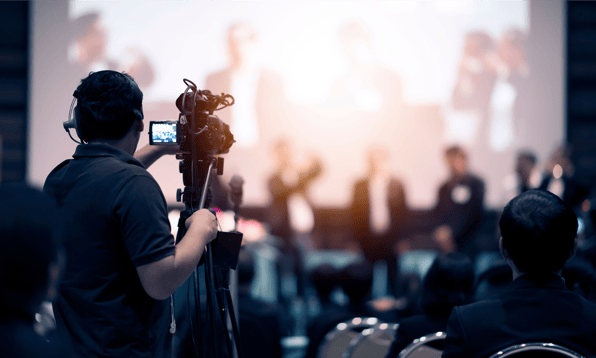 Connectivity is one of the core components of broadcasting: it ultimately determines how the event you're streaming reaches the screens of your audience.
Unfortunately, though, it is also one of the most challenging elements of a successful broadcast. And that's, in part, because of how few connectivity providers offer a truly global connectivity solution.
And when providers do offer global connectivity, it often comes with an ineffective price tag and a service that lacks in reliability.
Overcoming these connectivity challenges requires switching to a reliable provider: one that offers reliable, secure connectivity, and one that can effectively overcome the many challenges of connectivity for your business.
4 factors to consider in a broadcasting connectivity provider
Finding a reliable global connectivity provider for broadcasting is essential, however, it is no easy feat. So, as you begin your search, it's worth to keep in mind the following factors to ensure you make the best choice for your business:
1. Price vs. Quality and Coverage:
High price doesn't mean high quality. The smallest network coverage in a country will not necessarily be the cheapest, while the largest network coverage will not always be the most expensive. It depends on who your connectivity partner is, what kind of agreements it can provide you for each region, and then what price plans and customisable packages it can offer.
2. Network Security:
Security is key to any connectivity solution, as networks can pose a high risk to whoever is using them. To reduce the risks of a network attack, it's important to look for a provider that prioritises the security and quality of the routing of your network volume. For example, choosing a provider who offers private encrypted APNs/VPNs for your broadcasting connectivity will always put your broadcasting in a secured environment.
3. Network Failure Management:
Global broadcasters know better than most just how devastating network failures can be. They can result in interrupted or failed broadcasts, high delays, and poor audience approval. Choosing a connectivity provider that proactively manages connectivity failures will relieve the stress should a failure occurs. You should evaluate a provider by the way it manages network interruptions, simplifies tasks, secures your data and whether it solves more problems than it creates.
Connectivity Quality
Since broadcasting involves streaming a high volume of data (live video) for long periods, having global connectivity isn't enough. Broadcasters, instead, need a connectivity solution that offers a wide range of high-quality coverage to reduce both broadcasting delays and interruptions. Does your connectivity provider offer you the strongest network signal whenever available? How's the network infrastructure set up? Is the infrastructure tailored for broadcast specific demands?
A checklist for your broadcasting connectivity performance
Is your broadcasting connectivity reliable?
The easiest, and best, way to determine the resilience of a connectivity provider is by assessing its reliability.
If you find yourself wondering: "How long until we next lose connectivity?", "Will our provider cover this location?" and "Is our audience experiencing delays and interruptions?", it's likely that your network is non-resilient and lacking in reliability - i.e. not the right provider for you.
Does your connectivity have a recovery plan?
No one likes thinking about network failures, but every broadcaster knows that they are all too common in the world of broadcasting.
A resilient network acknowledges and manages potential interruptions proactively. And ideally, your connectivity solution should be able to automatically address network issues in real-time. This way, you can focus on the content you're streaming without interruption.
Is your broadcasting network secure?
Network security may not always be at the top of a broadcaster's list of priorities, but it should be.
Whilst every network is susceptible to outside attacks, broadcasts are typically filmed in public and are viewed by large numbers of people, which increases the exposure of your data to potential attackers.
A good connectivity solution will prioritise security, either in the form of VPNs or APNs: both of which will make it harder for outside forces to gain access to your network.
Is your broadcasting consistent?
Like any live event, broadcasting can be difficult to predict, especially for sports and live event broadcasters who travel for every stream.
Broadcasting on the road can leave you reliant on roaming partners, in dead zones for your network, and sharing networking space with local crowds: all of which will negatively impact stream latency, image quality and network reliability.
With a reliable connectivity provider, however, these factors all become much more manageable, providing a more stable broadcasting experience for both you and your audience as a result.
Velos IoT Broadcast: a quality global connectivity solution
If you think the provider you've been relying on for your broadcasting needs has been less than dependable, it's time to switch to a more qualified solution.
With permanent, non-steered roaming across over 600+ roaming agreements in over 210 countries and territories, Velos IoT Broadcast provides you with a global connectivity solution on a single SIM.
This means that you'll always be connected to the strongest network available, giving you higher quality and a more consistent, secure and reliable broadcasting experience.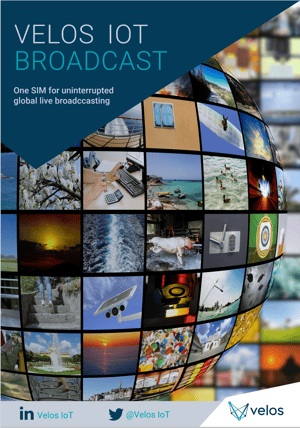 Conclusion
Connectivity can be a major source of stress for broadcasters, but it doesn't have to be. If you are looking for a reliable global connectivity solution for your broadcasting needs, consider Velos IoT Broadcast- one SIM for uninterrupted global live broadcasting.
Get a free infographic to understand what benefits Velos IoT Broadcast can bring to your global broadcasting needs.
Speak to a Velos IoT expert
Related articles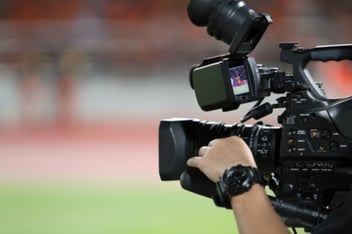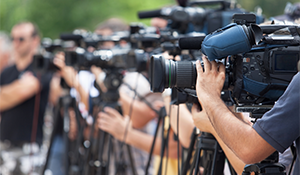 The first live broadcast was made in 1929 by the BBC. And today, nearly a century later, live...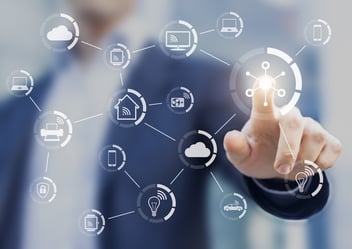 There are many elements in a successful IoT deployment. Apart from hardware, connectivity, and...